Patrick Greene – Coaching for Success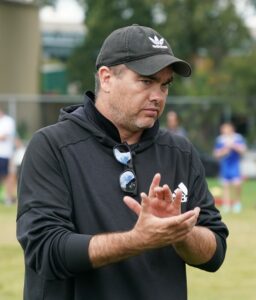 Patrick Greene, the Director of the Zone One Girls Program, aged (players 8-12 years old), has been a mainstay and the face of girls' soccer at Manhattan Soccer Club for over two decades. Like so much of life, his coaching journey was not planned. After a severe injury that ultimately ended his youth playing career, a friend asked him to assist in training a New Rochelle travel team. Patrick was just seventeen at the time and had little knowledge of coaching soccer, nor did he know that it would eventually become his life's passion and a solid career as an adult.
After college, Patrick started teaching English at De La Salle Academy, a middle school for gifted underprivileged kids in NYC, while at the same time officiating matches in the WYSL on weekends to stay connected with the game. At school, he taught a talented student from Nigeria who wanted to play travel soccer, and he tried to find a soccer team that would be a good fit for her. After officiating a travel-team match where one of the participants was the Manhattan SC Bats, Patrick approached the coach and was able to get his student rostered to the team. Patrick then graciously volunteered to get her to training and games, and eventually was offered a position as an assistant coach on the team; and has been with Manhattan Soccer Club ever since.
Patrick began his coaching career at Manhattan SC as an assistant with the Bats, who later merged with the Ravens to form the highly competitive Manhattan Hawks. The Hawks enjoyed significant success during a period that predated the ECNL, Girls Academy, and other top-level leagues. Shortly after that, Patrick landed his first assignment as a head coach with the Manhattan Rockets in 2001. During this period, Patrick first introduced the concept of an academy approach to the entire division, where all three teams would work together once a week on Saturday mornings, making player movement between teams more efficient. Pat's concept became the blueprint for the academy structure that the club utilizes to this day.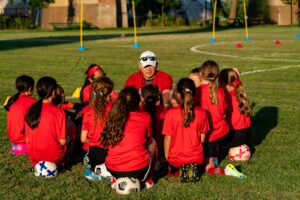 Over time, Patrick's first academy model served as the preferred method of building teams from the youngest ages of 8v8 and 9v9 to 11v11 and then passing them on to the coaches who had experience with High School ages. Patrick's foundation for most things in soccer drew on his extensive teaching experience. The best schools focus on teaching strengths, with elementary-age teachers passing on expertly trained students to their middle and high school counterparts. Patrick's most significant role over the past two decades continues to be the development of our youngest players. Along the way, Patrick was responsible for the development of some of the most successful girls' teams the Club has ever produced, including the Manhattan Pride (born 93/94), Manhattan Hotspur (born 96/97), Manhattan Santos (born 99/00), and Manhattan Stars (born 03/04).
Patrick grew up following Jack Charlton's Irish National team of the 1980s, so defensive solidity has always been at the core of his philosophy. But as an NASL Cosmos fan, and after falling in love with the old Ajax teams of the 1970s, he found a genuine appreciation for exciting flair players and the seminal influence of Rinus Michels and Johan Cruyff's "Total Football." As a teacher, Patrick discovered the importance of encouraging students to solve problems for themselves and not relying solely on what he could teach them. He wanted to give them the basic building blocks and the license to find new ways to succeed. He didn't want them to do it his way but to be better than he ever was. Ultimately, Patrick expects his players to master the game's fundamental skills and have the confidence and ingenuity to be decision-makers on the field. There is no doubt that this is a fine line to walk for a coach, giving players the freedom to fail or succeed without constant intervention, but he firmly believes that this freedom makes soccer unique and ultimately so special. Young players creating an individual style through their own decision and efforts are the types of life lessons that will be valuable well past the touch-line and a youth soccer career.
Never a star player, Patrick leveraged his smarts to outwit opponents and, sometimes, teammates. It is a similar concept to his teaching style. Intelligence wins games as often as raw athletics. When he adds a tactical change to a match or practice session, he wants his players to know why the change is essential, how it would help the team, and what might be the negative consequences. Where will each player fit within the new system and contribute substantially? As a coach, one of the things Patrick loves the most is precisely that inquisitive, challenging dynamic with his players. Once they understand the whys of the lessons, maximum effort soon follows. That effort translates into individual and team success.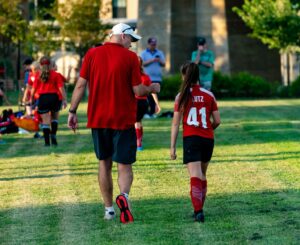 Patrick's primary focus at Manhattan SC remains player development. He believes every child in the program should be able to progress as a player and person. Regardless of age or level, he is committed to helping the player find their way through every step of the journey. He will guide, support, and help them in any way he can to reach their goals. Patrick believes that Manhattan SC continues to exert a preeminent role in developing girls' soccer in NYC during the two+ decades he's been coaching professionally. Few clubs in the area have put the time or energy into developing female players than Manhattan SC. And fewer still have developed the regional recognition and presence of our girls' program- our graduates are a shining beacon of our success at top colleges and universities, both athletically and academically.
Patrick's parents taught him and his siblings the importance of sacrifice early on. In Patrick's own words, "Their commitment and dedication to building a better life for us, regardless of what they wanted for themselves, have been a daily touchstone in my career." Patrick puts everything he has into making the lives of his players better, both on and off the field. To be surrounded by a staff of coaches and volunteers who share that same work ethic is inspiring. Manhattan Soccer Club has been a part of his family for over two decades. He is proud to continue building that community for our next generation of players and families.