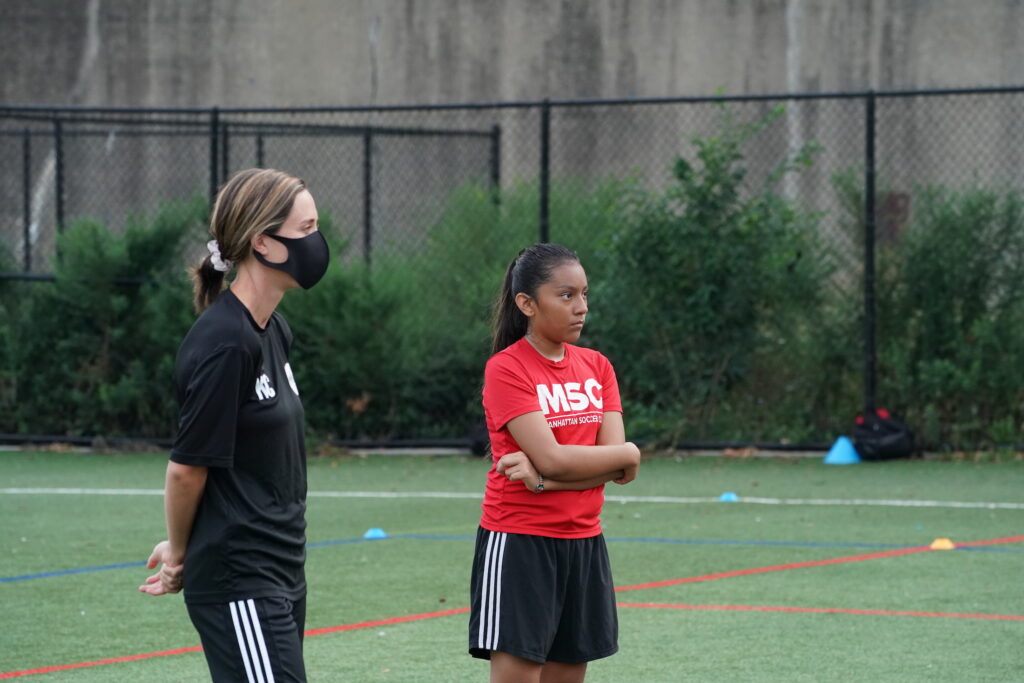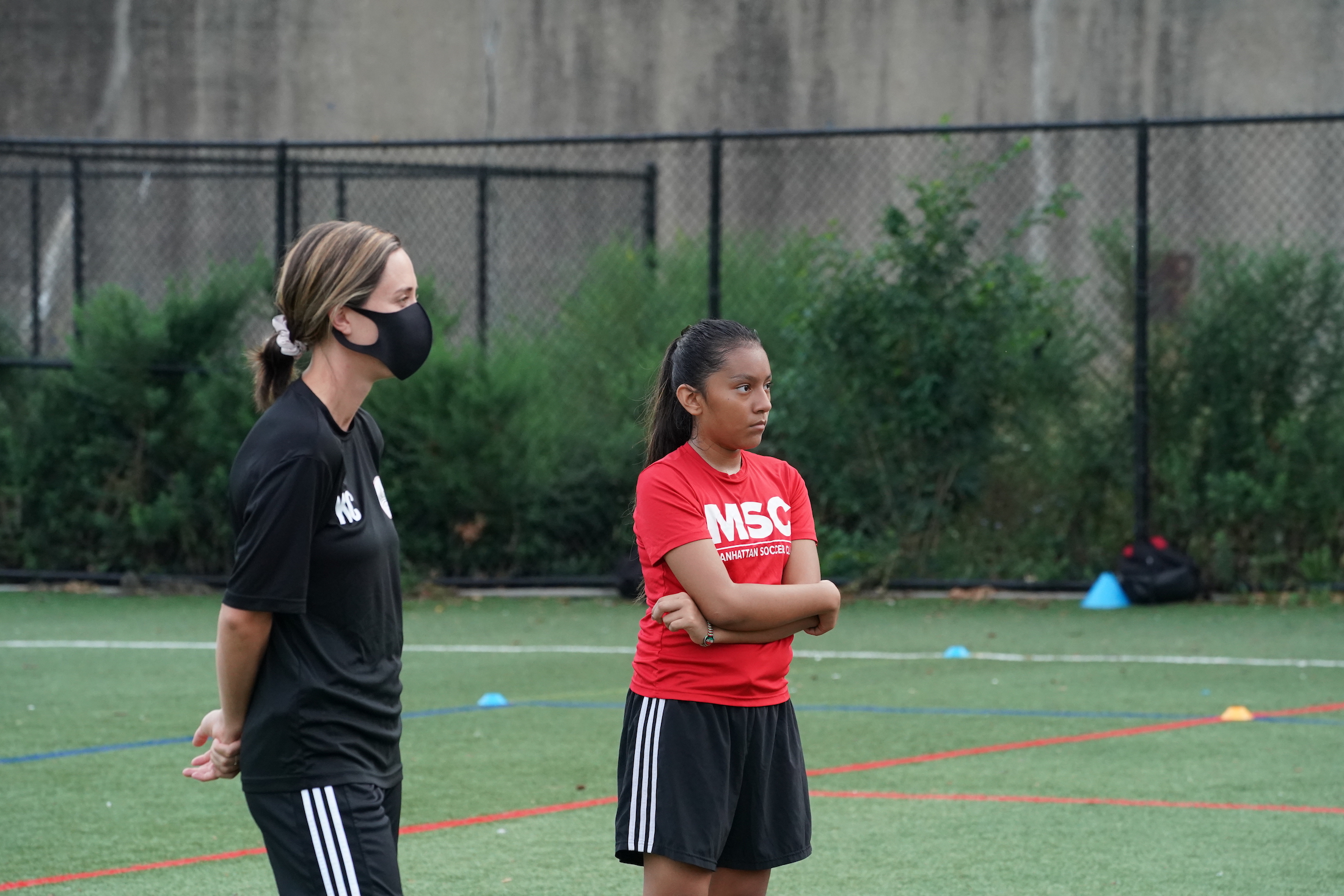 As we proceed through the Fall of 2020 we are encouraged every day with the smiles on the players faces, the work they are putting in on the field and the great place that Manhattan SC is in this fall. We have added quality to our staff and one of the brings spots is highlighting some of the new additions we have added and watching them enhance our training environment. Today we highlight Coach Kait who joined us in February and is thriving within the program.
DM: Hi Kait, What have you been doing to pass the time when you are not on the field? 
Kait:  Walking our dog, trying to learn to cook, I attempted to make homemade Jam, that was fun 
DM: Before MSC where has your coaching path taken you? 
Kait: I started while I was in college coaching a club team in Lansing, Michigan, After graduation, I went down to McNeese State University in Louisiana. Honestly, it was too hot for me so I came back home to Western Michigan for a year before getting an awesome position at Seton Hall. Next stop was Princeton as the head GK coach. I've just moved to NYC and the obvious choice was MSC as I wanted to transition into the youth game.
DM: Where did you play in College? What position were you?  
Kait: I was a goalkeeper and played my first 3 years at Western Michigan. I red-shirted the next year and then finished at Michigan State for my final year.
DM: What is your favorite aspect of coaching? 
Kait: For me being able to impact players as they develop. I have been through a lot and I had amazing coaches that became my mentors and helped me grow as a person. I really enjoy providing a path for female players and supporting them through challenges on and off the field. When I had the opportunity to work with MSC and youth players over the course of 10 months, I jumped at the opportunity. 
DM: What have you noticed about the players here at MSC? 
Kait: Wow what a great question, to be honest, what I see anytime I have interacted with them is an excited and hard-working group of girls. It's amazing and I love working with them because they have a lot going on with their schedule and they are still able to balance that with a high level of soccer. The smiles and joy that I see amidst the chaos just drives me every day to want to give them more!  
DM: Tell me something special about you? 
Kait: I have always known that I wanted to coach soccer. Being able to mentor young athletes has been a passion of mine. Starting in HS I had amazing relationships with my coaches and mentors and they inspired me to want to be a part of this beautiful game. 
DM: Who is your favorite soccer team? 
Kait: US Women's National team! By far number 1 for me!  
DM: Why them and not another team like Arsenal?  Who is your favorite player and why? 
Kait: That's funny! They are awesome - I love them because of the pure passion you see on their faces anytime they play. The determination and the to be the best - it excites me every time I watch them play. 
Kait: My favorite player is Julie Ertz - with her there is no fuss just business. She puts her head down and sets out to accomplish the task at hand that day. 
DM: What is your favorite soccer memory? 
Kait: I think my 3rd and last year with Western Michigan we won the conference tournament and went on to the 2nd round of the NCAA tournament. The year before we didn't even qualify for the conference so winning it that year was so sweet! 
DM: If you could send a message to all the girls in the MSC Program what would it be? 
Kait: We have been thrown a lot in 2020 and very happy to see the girls now thriving.  We all have adapted to this new normal and are using it to make ourselves better. Keep working hard, keep grinding, keep smiling as we will be all right!  
DM: Thank you Kait, stay safe and we are very happy with you being a part of our MSC Family!!