MSC Welcomes Tim Marchisotto as Girls Director of Coaching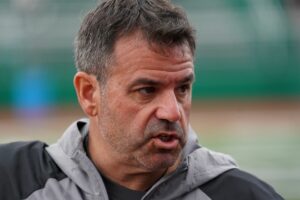 Manhattan Soccer Club is pleased to welcome Tim Marchisotto as the Girls Director of Coaching, effective immediately.
A native of Syosset, NY, Tim has been a club and college coach for over 27 years. He most recently served as the Head Coach for Benedictine University, where he guided both the women's and men's programs. He has served as a coach and director for Sporting AZ FC in Phoenix, AZ, where he helped guide the Arizona Hammers Soccer Club through a merger with the prestigious CISCO Soccer Club and served as a team coach and the Director of Coaching for the clubs.
Marchisotto has ties to the East and West coasts, where he has coached at several colleges and universities in his career. He has coached at Bowdoin College, Stevens Institute of Technology, and Grand Canyon University. He also served as an ODP coach for both New Jersey and Arizona.
"I am very proud to be part of Manhattan Soccer Club. I am looking forward to working with our staff to refocus our girls program at every level and every age. This is a special club, with a great tradition."
Current Girls High School Director Darren Marshall and Zone 1 Girls Director Patrick Greene will assist Tim as he forges ahead in his new role.
Good luck, Tim, and welcome aboard!
On behalf of the Board and Staff of MSC