MSC Announces Darren Marshall as Head Coach for USL W-League Team's Inaugural Season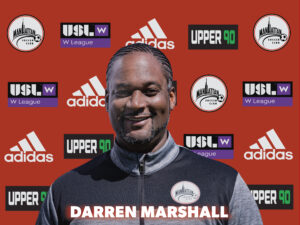 Manhattan Soccer Club is proud to announce entry into the USL W League for its inaugural 2022 season. The opening season will be led by Coach Darren Marshall. Marshall is spirited at the appointment saying,  "The Manhattan Soccer Club USL-W Team, are the newest edition to the finest club in NYC- as we offer a complete and comprehensive soccer development platform for all players."
Aside from helming the women's team, Marshall is also the High School Girls Director for the 15U-19U teams at MSC. The teams are a part of the USYS National League Conferences. Darren holds his USSF 'A' License, NSCAA Premier Diploma, US Youth Soccer "Y" License, and English FA Youth Certificate. Darren has more than 20 years of coaching experience to help guide one of New York's top clubs. Darren also has experience as a professional coach with the Boston Breakers from 2009-2013 and played collegiately at the University of Maryland Eastern Shore.
In affirmation, MSC's Girls Director of Coaching, Tim Marchisotto stated, "I am very pleased to announce that Darren Marshall will be leading our W-League team in its inaugural campaign. Darren has positioned so many players, from our girls program, to play at the highest level possible – collegiately, national-level and WSL. It is just a natural decision that he takes the reins this year."
The inclusion of the USL W League team in MSC's development program completes the pre-professional pathway for both men and women as MSC is now "all-in" with the USL platform.
Open tryouts are being held throughout April into May before the season kicks off in mid-May.